The Connecting Womxn of Color Conference
The Connecting Womxn of Color Conference fosters an open dialogue in which participants can think deeply and critically about current issues. This conference seeks to cultivate an outlet on campus focused on both intellectual and personal development in which women and gender-expansive individuals of color and their allies can have meaningful dialogues around issues important to them, inviting people from local universities and the greater Richmond community to share in and contribute to this diversity, equity, and inclusivity work. The conference intentionally focuses on networking in a welcoming environment in order to connect students with people that they otherwise might not have the opportunity to meet.
The term "womxn of color" is intended to transcend and embrace shades of color and to welcome and unite those of us who identify as women and gender expansive people of Arab/Middle-Eastern, Asian/Pacific Islander, Black/African American/Caribbean/West Indies, Hispanic/Latinx, and Native/Indigenous descent.*
The theme for this year's Connecting Womxn of Color Conference is: EmPOWER, EnVISION: Radical Self-Love and Self-Reflection. During this year's keynote, Dr. Melanie S. Hussain through her story—from humble beginnings in Toronto and rolling West Virginian hills to Miami's iconic flare— shares the experience of a womxn of color in a complicated world.
This conference examines our identities - specifically, how our unique perspectives shape and style our identities. Our shared experience is one of depth, struggle, and great beauty. Self-doubt, insecurity, trauma, racial discrimination, and other forces mold our reflections of our individual and collective past. In turn, these forces can have a lasting impact on if, and how, we feel empowered in the present, but together, united, we can grow, adapt, and evolve.
In this keynote, Dr. Melanie shares her story as an introduction to a day dedicated to reflecting upon and celebrating womxn of color. Let's pull back the layers of our identity, uncover our personal stories, and fashion together our redesigned, empowered SELF. Questions she encourages us to reflect on throughout the day include: How do we show up for our world? How can we see ourselves in this world? Following the keynote, a panel discussion will further explore the ways we can feel empowered through our personal stories and how to show ourselves self-compassion, while also providing tools for connecting with our authentic selves. In the workshop sessions, we will focus on exploring our SELVES through style, art, and tools for resilience. To understand and grow our identities, we must self-reflect.
The 2021 Connecting Womxn of Color Conference will be held on Friday, October 22, 2021 at the Jepson Alumni Center. For more information, please visit our conference information page. To register, click here.
*adapted from Women of Color Network, Inc.
2021 CWoC Speakers
Keynote Speaker
Dr. Melanie S. Hussain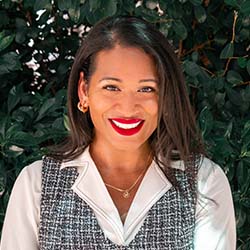 Dr. Melanie S. Hussain is a Licensed Marriage and Family Therapist based in South Florida. Her diverse clientele includes women, those struggling with identity and self-image, athletes, and the LGBTQ+ community. Growth through fashion and style therapy are her specialties. To that end, Dr. Mel recently became stylist certified through the Global Style Academy. Dr. Mel empowers her clients through self-reflection of their relationships, what they wear, and how they present themselves to the world. She puts great emphasis on her clients' aspirations to design and style their lives as they see fit.


Workshop Leader
Tiffany Goodman (WC'07)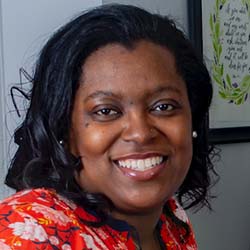 Although a Maryland and DC native, Tiffany Goodman has lived in Richmond Virginia since attending the University of Richmond, as a part of the Westhampton Class of 2007. Since graduating she has worked for a number of non-profits in the Richmond area focusing on youth, advocacy, or mental health. She is a Licensed Professional Counselor and has spent her career learning, training, and practicing in the field of trauma informed care. Currently serving as the Diversity Equity and Inclusion Coordinator at the Steward School, and a Mental Health Clinician and Trainer with Challenge Discovery Projects, she enjoys careers in both worlds. Tiffany is married to Aaron, and they have a whirlwind of a daughter named Arie, and two pups Laila and Izzy.


Workshop Leader
Eva Rocha
Eva Rocha (she/her) is a Brazilian multimedia artist. Her diverse life experiences led her to develop a questioning process of visual historical representation. Through self-experience and academic environments in BA/MFA, Rocha studied body language through Performance Art and Theater in Brazil; Social Communication; Cultural studies; Pre-Colombian Art methods versus Spanish Art methods in the Andes of Peru; Art-History, Museum Touring; and Art Technology. Her work inverts the dynamic of oppression [race/gender/culture] to include the viewer in a dialectic dialogue process with the artwork.
Questions?
For questions regarding registration, please contact Kristen Phelps, Administrative Coordinator, Westhampton College at kristen.phelps@richmond.edu or call 804-289-8468. For general questions or concerns, please contact Zara Sibtain, Assistant Dean of Westhampton College at zsibtain@richmond.edu.