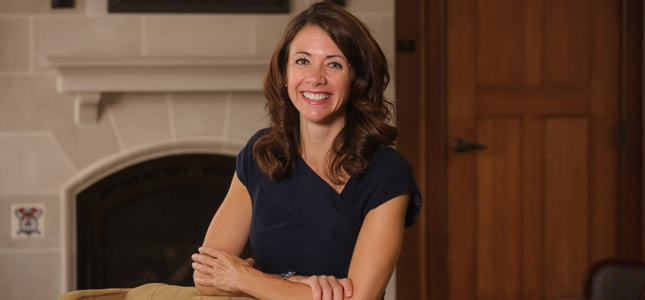 Kerry Albright Fankhauser
Associate Dean of Westhampton College
Profile
Kerry Albright Fankhauser is the Associate Dean of Westhampton College.  Dean Fankhauser cherishes every opportunity to get to know and support Westhampton students, and is known for her tireless spirt and ready smile. At Westhampton, Dean Fankhauser meets with students to provide individual support and guidance for academic, co-curricular, and social matters, as well as oversees many of Westhampton's beloved celebrations, including Proclamation, Ring Dance, Senior Celebration, and the Senior Student-Athlete reception, as well as the Four Year Roommate Dinner.  She co-advises the Westhampton Student Government Association, and advises and oversees the class cabinets and the Westhampton Web mentorship program.  Dean Fankhauser also co-organizes and co-directs New Spider Orientation with Richmond College, including Orientation Advisor selection and training, programs for families of students participating in transition programs, and orientation overall, as well as the planning of a post-orientation events for new students. She serves on numerous cross-campus committees, including the First-Year Experience Committee, and teaches Wellness 085. One of her favorite parts about being a dean is that she is able to know and advise students throughout their time at the University.  Dean Fankhauser is delighted that she both engages with students in their first experience of the university – through Orientation – and celebrates with them in their final year, at Senior Celebration – a truly joyous celebration of Westhampton community and spirit!
Dean Fankhauser began her career at Westhampton College in July 2003 as an Area Coordinator.  From February to June 2005 she served as both an AC and the Interim Assistant Dean for Residence Life, before moving into the role of first of Assistant Dean and then Associate Dean of Westhampton College.  Prior to coming to the University of Richmond,  she served as an Academic Advisor at Western Michigan University from 2000-2001, and then as a Hall Director at Valdosta State University from 2001-2003. 
To make an appointment with Dean Fankhauser, please call Kristen Phelps at 804-289-8468.
Presentations
How Campus Cultural Representations of Men and Women Encourage Sexual Violence, program designed to explore the cultural representations of women and how these representations connect to the cultural expectations of men to create an environment on college campuses that often encourage sexual violence, NASPA, 2011, coordinating presenter
Cost and Benefits of Problem Discussion: Co-rumination in College Students,
program designed to explore the costs and benefits of co-rumination in college relationships, NASPA, presenter.
Perfectionism: Dynamic or Deadly?,
program designed to address a rise in unhealthy attributes and behaviors associated with a striving for perfectionism among traditional-age college students. The session examined the effects of perfectionism on students' lives and the underlying causes of this behavior, NASPA, presenter
Perfectionism: Dynamic or Deadly?
, program designed to address a rise in unhealthy attributes and behaviors associated with a striving for perfectionism among traditional-age college students. The session examined the effects of perfectionism on students' lives and the underlying causes of this behavior, TACUSPA, presenter
FERPA, Boundaries and Regulations,
designed for Mary Washington College Housing and Residence Life program to address concerns regarding adherence and application of FERPA, Mary Washington College, presenter
Legal Issues in Higher Education,
program designed to prepare entry level and middle manager student affairs professionals to address legal issues on their campus, Virginia Association Student Personnel Administrators (VASPA/VACUHO), presenter
Becoming a Student Affairs Professional,
program designed to prepare students interested in pursuing a career in Student Affairs, Georgia Regional Resident Assistant Conference, co-presenter
Terror on the Seven Seas: A legal perspective to campus violence
, program on legal issues in Higher Education, Georgia Housing Officers (GHO), co-presenter
Memberships
Student Affairs Administrators in Higher Education (NASPA)
National Orientation Directors Association (NODA)
Professional Experience
Academic Advisor, Western Michigan University (2000-01)
Hall Director, Valdosta State University (2001-03)
Area Coordinator, Westhampton College (2003-05)
Interim Assistant Dean of Residence Life, Westhampton College (Feb.-July 2005)